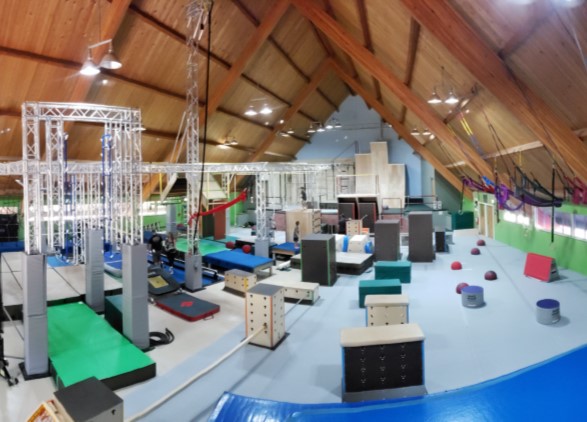 June 29-July 3, 7am-6pm
5-13 yrs old
Is your kid a budding American Ninja Warrior?  During this week's themed daycare sessions they'll build and experience awesome ninja courses!  A combination of  inspiration and obstacles from the hit TV show American Ninja Warriors and Eudaimonia's popular summer camp activities, like our outdoor ninja training course and our real-life, indoor Ninja Warrior Parkour Gym!  We even have #3 massive warp walls, a run-up wall like on the show's finale, and a refurbished fireman's pole from New York City!  Students will set a ninja goal for the week, learn from failure (a part of everyone's life and journey) and embrace progress, not perfection.
Students will learn first-hand, not only helping coach's layout new ninja courses every day, but through BUILDING THEIR OWN OBSTACLES TO KEEP!  Ninja Warrior themed games and activities will inspire the students as they have fun putting their new skills into action!  Students will build confidence and make memories to last a lifetime!  (5-10 & 11-13 years old)
Available 7am-6pm – Only $300!  Register for one week or more.  REGISTER TODAY! 
Call #833-568-7474 or Register below!
WHAT STUDENTS SHOULD BRING: Lunch/snacks, full water bottle, clothing layers, apply sunblock prior to arriving, and a great attitude! 🙂
OUR COVID-19 RESPONSE & PROTOCOLS FOR WEEKLY THEMED CHILDCARE
No more than 10 children in one group.
Keep groups of children together with same staff, when possible
Encourage employees and students to conduct daily temperature checks and monitor their symptoms.
Require anyone exhibiting any symptoms or signs of sickness to stay home.
Hand washing upon arrival and throughout the day.
Limit the number of child-staff and child-child interaction in common spaces, as much as possible.
Encourage 6-foot distancing where possible.
Stagger meal/snack times by group.
Disinfect all high-touch areas at start and end of the day, and throughout the day.
Staff to wear face covers when interacting with students indoors and/or within less than 6 foot.
Students bring or wear provided face masks indoors, if this does not increase face touching.
We'll provide frequent communication with all families of enrolled children, specific to all issues in the public health order.
You and your child(s) health and wellness are our highest priority.