We use fun, neur-centric, natural movement to help people feel good, learn more, and do what they most desire!  *LIFEKour Academy is a program of Eudaimonia Human Flourishing Center.
Philosophy
Countless studies have shown that regular physical activity can improve mood, brain function, alertness, energy and even memory; as well as decrease the risk of contracting many diseases, such as heart disease or type 2 diabetes, but who wants to spend countless hours a week forcing themselves to trudge through the same old dull workout routines? Not us! LIFEKour classes are designed to be fun! Combining cutting-edge neurological and sport science research with a variety of modalities we improve range of motion, strength, stamina, and agility; reduce or eliminate pain and learn to move as fluidly and efficiently as possible.
Vision
To inspire movement as a lifelong passion; teaching you how to improve and maintain your physical health, empowering you to flourish in body, mind, and spirit.
Mission
To bring people together in skills that normalized movement and play in everyday life, developing strengths to overcome obstacles and face challenges.
TJ Foreman
Neuro Athletic and Rehab Specialist
Coach TJ loves to play and learn new activities and disciplines! His passion is seeing lives transformed through neurological based training! He teaches LIFEKour Academy Coaches how to integrate this training into their classes and to their students. He offers Neuro-centric training through Eudaimonia's Next Evolution Wellness facility.  And when he is not at Eudaimonia he is hiking and playing with his kids and family, sharing outdoor activities and hitting a beach whenever he has the opportunity.
Z Health Master Practitioner, NASM CPT, K.A.T Certified (Kettlebell Ahtetic Training), Level 3 WFPF Parkour Coach (WFPF-World Freerunning and Parkour Federation)
Trinity Foreman
Youth Program Director & Coach
Trinity started her parkour and ninja warrior training at a very young age. She has worked as a Parkour Coach for 6 years, and has a passion for impacting kids in building confidence and character. She recently started offering classes for children on the spectrum or those with physical limitation. During her off time you will find her pursuing a college degree in Coaching Special Needs Children, hiking, snowboarding, or writing her latest novel.
Strongs Adpative Needs Instructor, Level 3 WFPF Parkour Coach (WFPF-World Freerunning and Parkour Federation), LIFEKour Academy Neuro-Parkour Coach
Angelina Prendergast
Aerial and Circus Instructor
As a competative dancer in her youth, Angelina developed a love of movement at an early age. This progressed into further expression through stage combat, aerial silks and circus performance, with her most recent discipline, Parkour. Coach Angelina has been with us for 5 years. She works with all ages, but has a love of working with youth, which is evident in her patient, informative coaching style. 
Aerial Instructor, Thai Masseuse, Yamana Ball Therapy Certified, Level 3 WFPF Parkour Coach (WFPF-World Freerunning and Parkour Federation)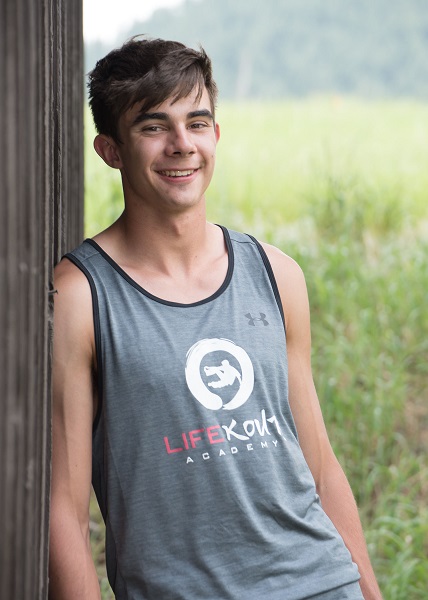 Kobe Beckton
Parkour/Freestyle and Flip Coach
LIFEKour's Advanced Parkour Instructor, Coach Kobe, is a competitive Parkour athlete, and is often found in the gym and around town jumping, vaulting and flipping over anything and everything! He enjoys working with aspiring and experienced athletes of all ages, and has a passion for teaching freestyle and advanced flipping.  He is driven and commited to see students develop and grow in their confidence and abilities. He has been with us for 5 years, and while not currently working with us this winter, he returns for the summer programs! 
Level 3 WFPF Parkour Coach (WFPF-World Freerunning and Parkour Federation), LIFEKour Academy Neuro-Parkour Coach, Eldoa Level 1: Spine Health Certifcation
Zander Smith
Parkour & Ninja Warrior Coach
Coach Zander started with LIFEKour 3 years ago as a student in our homeschool NinjaKour classes.  Since then he has taken every class we've offer, including volleyball!  He interned for a year, including in our summer camp program. Along the way, ee developed a passion for coaching and seeing students experience that light bulb go on with pride in learning a new skill!  As a natural in coaching parkour and our neuro-centric approach, he was quickly hired! On his days off you'll find him enjoying his diverse loves of hiking, Muay Thai, gardening, and baking.
*LIFEKour Academy Neuro-Parkour Certified Coach
Ysabella "Yzzy" Bellotti
Parkour Assistant Coach
Bringing her parkour and aerial skills to LIFEKour, Coach Yzzy loves working with youth!  She has 5 year experince in Aerial Silks, and started as a Parkour student with Coach Kobe 4 years ago!  She started working as a Coach with LIFEKour in 2019.  Plus, she is amazing on the trampoline and loves helping students progress in their trampoline skills!  Whe she is not at the gym, she is working on rebuilding cars and enjoying our beautiful state!
*LIFEKour Academy Neuro-Parkour Certified Coach.
Zakai Scott
Parkour Assistant Coach
Coach Kai spent 2 years in LIFEKour gym training and waiting to come of age to start working here! After spending those years in the gym learning from our coaches, he has developed not only amazing parkour skills, but incredible coaching skills. He is a natural, wise and mature beyond his years!  After completeing our extensive coach training program 2 years ago, he was hired!  He loves the kids, seeing them progress at their own speed.  He loves flips and coaching the students in freestyle, parkour and flip skills. He is an aspiring pilot, but until then, he "flys" through the gym performing amazing flips!
LIFEKour Academy Neuro-Parkour Certified Coach.
Kat Foreman
Operations Director, Eudaimonia
Kat loves to see people connect and flourish though community, purpose, and movement. Through a background in working with youth, developing curriculums, marketing and management, and bringing health and wellness initiatives to local schools, she found her life purpose in helping build and launch Eudaimonia. When she is not working and playing at Eudaimonia, she is hiking (her favorite activity!), running, snowshoeing, practicing yoga, and spending time with her kids, family, and friends. She loves all things outdoors!
Jazzie Smith
Office Manager
Jasmine's smile and helpfulness is a warm greeting to all whom come to Eudaimonia and LIFEKour Academy!  She is passionate about seeing people flourish, and excited to continue to support people though her adventure at Eudaimonia.  She leads Eudaimonia's Community Meditation and Prayer Gathering, and hopes to see you there!  She loves her family fiercly and in her free time enjoys expanding her knowldge and practice in yoga, Reiki and other disciplines!
Vicki Sanders
Client Services Associate
Vicki has been bringing her family to Eudaimonia since we opened in October of 2017, and we were thrilled when she joined the staff in 2019!  She is passionate about healthy living and loves spending time with her family. Her favorite and frequent activity is hitting the local hiking trails! btw- she is the proud mom of our unofficial mascot, Kevin!  You might meet this little fluff ball (a hypoallergenic therapy dog in training) when she is working.